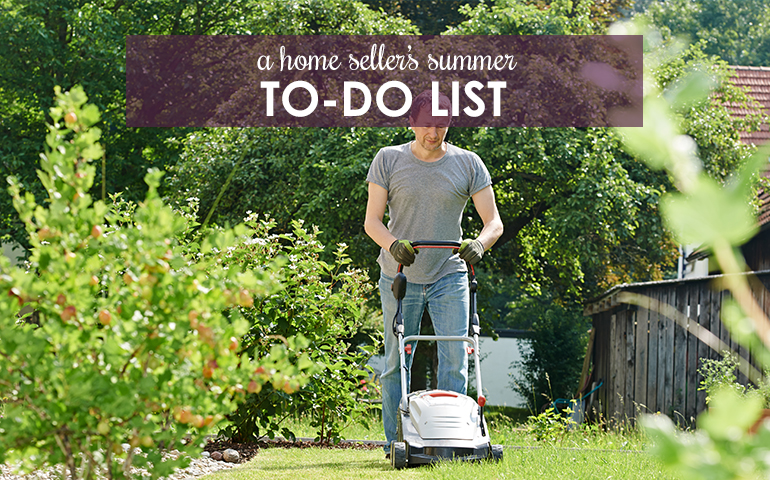 Five Tips for Selling Your Home in Summer
The heat is on for home sellers during this competitive real estate market. Sure, many buyers are primed and ready to close and move into new homes before a new school year starts. But, with so many homes on the market right now, how can you make yours stand out?

During summer months, you've got to be more than just flexible on showings to attract the right buyer. Here are five things a seller can do to get a home ready (and keep it in top shape) to sell this summer:

1. Make the outside matter
When your home is on the market during the long days of summer, you need to make sure it looks its best—at all times. You can shape up your curb appeal in several ways. From spraying off your siding to applying a fresh coat of paint to your front door, you can give your home an edge over the competition. Trim the shrubs and mow the grass meticulously, even twice a week when your home is listed. During summer, it is more important than ever to present your home in the best light possible.

2. Shine as bright as the sun
Speaking of shining light on your home for a summer sale, it is important to make your home appear as brightly lit and spacious as possible. Luckily, Mother Nature is on your side for this task during summer. Take advantage of longer hours of sunlight by opening your blinds and letting those rays inside. When your home is brightly lit, it looks more spacious—and, that's an added perk for buyers any time of the year!

3. Keep your cool
And, help potential home buyers do the same, of course. You want buyers to spend some time deciding why your home is just perfect for them. In hot, stuffy homes, it simply is not easy to do this. Whether you're still living in your home or not, when prospective buyers are touring through, you want to make sure they're comfortable. Don't skimp on the air conditioning. Keep the air in your home at a cool temperature, so visitors are happy to linger—and look at all the reasons they should buy.

4. Wow buyers with summer hospitality
Don't be afraid to pull out all stops during the summer selling season. When you have showings or an open house scheduled, go ahead and offer some tasty summer snacks or beverages to satisfy prospective buyers. It is definitely not a necessity, but it could make your home more memorable for a buyer who is trying to make a decision on your home and another similar one. Sweeten the deal with a lasting impression buyers cannot forget!

5. Price it right
When it comes down to it in a competitive market, if your home price is way off from other similar homes, your chances of selling in a timely manner can be severely diminished. If your listing price is too high in summer, you could be pricing yourself right out of the market. Work with an experienced real estate agent to make sure your home price is on par with other similar homes—you know, the ones you're working so hard to stand apart from!
If your home is on the market, or you're preparing to list it soon, put these five items on your summer home-selling list—and fast!

Need some help getting the word out about your home for sale? Get in touch with us today!